CELEBRATE 50 YEARS OF McCAIN!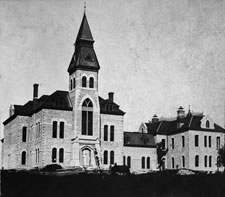 Anderson Hall, 1882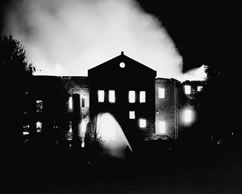 KSU Auditorium burns, 1965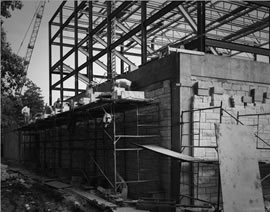 McCain construction, 1968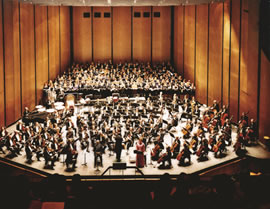 McCain Dedication, Nov. 11, 1970
History
McCain Auditorium has hosted hundreds of live events since 1970, providing K-State students and the Manhattan community a place of cultural enrichment and engagement.
Before McCain opened its doors, K-State used other facilities for campus activities, visiting performers and lecturers, including a college barn built in 1872, Anderson Hall, an auditorium constructed in 1904 and All Faiths Chapel. By the late 1950s, the old auditorium proved to be inadequate. In 1963, K-State president James McCain asked for funds to build a new auditorium.
"No building is more essential to the broad educational purpose of a center of higher learning than this facility and none has stronger support from our faculty, students, and alumni," McCain said at the time.
K-State was given $16,000 for the cost of preliminary plans for the auditorium. On the morning of Jan. 15, 1965, a security guard discovered a fire in the auditorium. The building disintegrated into flames in minutes. The fire destroyed an organ, along with band instruments and musical scores. Two arsonists were later arrested and convicted of setting the fire.
During the 1965-1966 legislative sessions, President McCain requested more than $2.8 million for a new auditorium. University officials wanted to use the building for every type of performance, including solo instruments, symphonies, opera choruses, dance, theater, nationally touring Broadway shows and student performances.
Crews broke ground on Oct. 3, 1967, and on Oct. 7, 1970, the Broadway play "George M" came to the McCain stage. On Nov. 11, the Minnesota Orchestra premiered Gail Kubik's "a record of our time" and President McCain dedicated the structure to the "enrichment of the human mind and spirit," describing it as a "center for intellectual gratification." The building was renamed McCain Auditorium upon the retirement of President McCain in 1975.
For a more complete history, download "History of McCain Auditorium," (PDF) a booklet published in observance of McCain Auditorium's 40th anniversary celebration, Sept. 17, 2010.