Quixotic
A hypnotic fusion of dance, live music, aerial acrobatics, visual effects and high fashion.
7:30 p.m., Friday, Feb. 7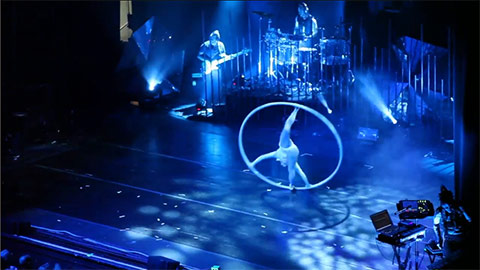 Art that enchants, invigorates and awakens the imagination has always been born of the rule breakers, and no one is breaking the rules more joyously, more fervently than Kansas City's Quixotic. A melting pot of dance, aerial acrobatics, projection mapping, high fashion and original live music, Quixotic is a cornucopia of mystical majesty that enraptures audiences who have never even dreamed a night at the theater could be this much fun. Sleek dancers pushing the boundaries of athletic artistry soar across neon skies, painting new nature on old in a vivid fantasy world. Evocative tribal electronica sets the stage for the visual panoply of color and agility in flight. Even the aural accompaniment blurs the lines between stylistic worlds, blending organic instrumentations of lush strings and primal drums with digital symphonies of programmed beats and bellowing subsonic frequencies.
"... it's a sensory experience that mirrors a beautiful nightmare, a barrage of twisted but elegant imagery ... moments of seemingly super-human strength and grace, as acrobats dangle from hoops or ropes above the stage." — The Pitch