Buddy Guy
Blues icon and member of Rock and Roll Hall of Fame.
7:30 p.m. Friday, Sept. 5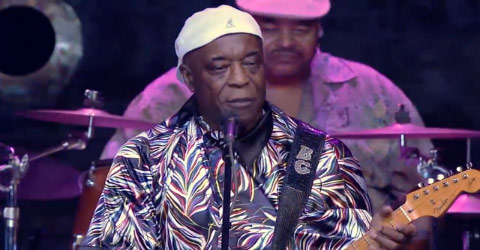 Proclaimed by Eric Clapton as "by far without a doubt the best guitar player alive... He really changed the course of rock 'n' roll blues," the incomparable BUDDY GUY recently added the prestigious Kennedy Center Honors, America's highest cultural honor, to his long list of achievements.
BUDDY GUY is credited for bridging the gap between 1960s Chicago electric blues and modern-day rock and roll. A member of Muddy Waters' band in the golden age of Chess Records, Buddy Guy's solo career was a key influence for Eric Clapton, Jimi Hendrix, Jimmy Page and Stevie Ray Vaughan. Buddy Guy is listed as one the "100 Greatest Guitarists of All Time" by Rolling Stone.
He brings with him 14-year-old QUINN SULLIVAN, whose blistering guitar skills have already landed him appearances on "Jimmy Kimmel Live!," "Ellen," "Oprah" and "The Today Show."
"Buddy Guy is the perfect combination of R&B and hardcore rock and roll." — Slash
"Heaven is lying at Buddy Guy's feet while listening to him play guitar." — Jimi Hendrix