The Intergalactic Nemesis: Twin Infinity
Live-Action Graphic Novel.
7:30 p.m. Monday, March 30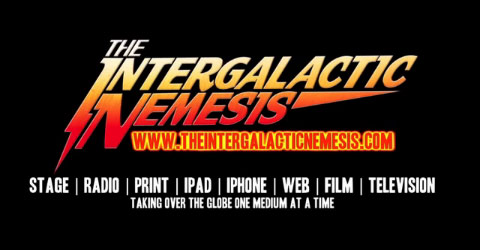 Straight from Austin, Texas, THE INTERGALACTIC NEMESIS is a series of shows like no other. Its format is called a Live-Action Graphic Novel. "TWIN INFINITY" is its final chapter. Three actors voice dozens of characters, a Foley artist creates all the sound effects, and a pianist plays a cinematic score, while more than 1,250 individual fullcolor high-resolution comic book panels tell a hilarious sci-fi adventure story visually from an enormous movie screen. And it's all done live in front of your eyes.
Join Pulitzer Prize-Winning reporter Molly Sloan and the man of her dreams, Ben Wilcott, as they race to rescue her fiancé, also Ben Wilcott, from a secret society of spies that spans the globe — and beyond! Say what? Never mind. Trust us. This show's funny. The year is 1942. Are you ready for the adventure?
Haven't seen the first two installments? No worries! Twin Infinity is designed to stand alone. No previous Intergalactic experience necessary!