Dinosaur World Live!
Direct from London's West End
6:30 p.m. Wednesday, Feb. 26, 2020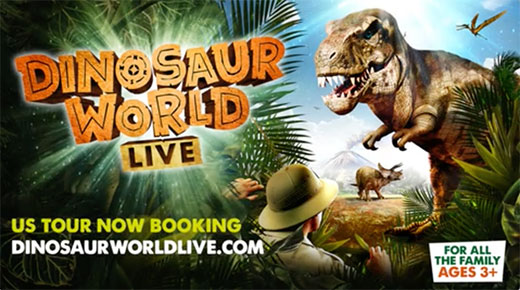 Dare to experience the dangers and delights of Dinosaur World in this interactive new show for all the family. Grab your compass and join our intrepid explorer across uncharted territories to discover a pre-historic world of astonishing (and remarkably life-like) dinosaurs. Meet a host of impressive creatures, including every child's favorite flesh-eating giant, the Tyrannosaurus Rex, a Triceratops, Giraffatitan, Microraptor and Segnosaurus! A special meet and greet after the show offers all our brave explorers the chance to make a new dinosaur friend.
Parental Advisory: Recommended for ages 3 and up.
Ticket prices
Tickets are $59, $39, $29, $29, and $19, depending on where you sit.
K-State students and youth 18 and under are 50% off most seats.
All ticket prices and dates are subject to change.
Season tickets (7 or more shows) are on sale now by. Download the season ticket order form (pdf), call the box office, or stop McCain in person.
Season tickets are not available online.
Single tickets go on sale August 5 online at 10 a.m. and August 6 in person or by phone from noon to 4 pm.