Russian Renaissance
7:30 p.m. Sunday, Oct. 13, 2019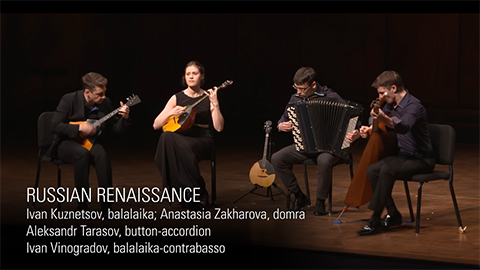 After emerging with the $100,000 grand prize at the 2017 M-Prize Competition, the largest prize for chamber music in the world, Russian Renaissance has firmly established itself as one of the most electrifying and exhilarating ensembles of today. Through stunning performances of everything from tango and folk to classical and jazz, Russian Renaissance is redefining the possibilities of their traditional Russian folk instruments (balalaika, domra/domra alto, button accordion and balalaika contrabasso) and capturing the attention of audiences worldwide. What makes Russian Renaissance truly special is their ability to both dazzle with breathtaking style and touch the hearts of listeners of all ages and backgrounds. In addition to their success at the M-Prize Competition, Russian Renaissance also received first prize at the 69th Coupe Mondiale in Russia in 2016 and was named Musical America's New Artist of the Month in March 2018.
Ticket prices
Tickets are $55, $35, and $25, depending on where you sit.
K-State students and youth 18 and under are 50% off most seats.
All ticket prices and dates are subject to change.
Season tickets (7 or more shows) are on sale now by. Download the season ticket order form (pdf), call the box office, or stop McCain in person.
Season tickets are not available online.
Single tickets go on sale August 5 online at 10 a.m. and August 6 in person or by phone from noon to 4 pm.