The Four Italian Tenors
"Viva Italia"
A salute to four treat Italian Tenors: Enrico Caruso, Mario Lanza, Luciano Pavarotti, Andrea Bocelli
7:30 p.m. Friday, Sept. 13, 2019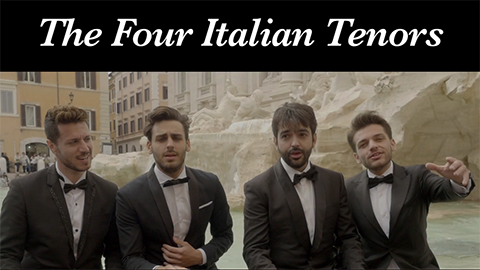 The Four Italian Tenors present an extraordinary program of the most famously beloved Italian opera arias and songs, fusing Italian wit and charm with romanticism, lyricism, dramatic flair and operatic style. This project is the inaugural tour in the United States of this sensational young new Italian ensemble.
Their performances are captivating, exhilarating, passionate, engaging and mesmerizing. Hear this new generation of world-class tenors explore and present these classic works with panache, verve and vivacity, all in their own inimitable style.
Be transformed to the land of Italy, and bathe in its rich culture with the sounds of The Four Italian Tenors.
Ticket prices
Tickets are $59, $49, and $39, depending on where you sit.
K-State students and youth 18 and under are 50% off most seats.
All ticket prices and dates are subject to change.
Season tickets (7 or more shows) are on sale now by. Download the season ticket order form (pdf), call the box office, or stop McCain in person.
Season tickets are not available online.
Single tickets go on sale August 5 online at 10 a.m. and August 6 in person or by phone from noon to 4 pm.