Parking
Complimentary parking is available in the K-State parking garage for Friends of McCain members who contribute at the Benefactor — $1,000 — Level or above.
Parking garage
The K-State parking garage, at the corner of Anderson Avenue and 17th street, offers convenient parking. Fees for the garage are $1.50 per hour and $12 max per day and are charged 24 hours a day. Handicapped parking is available in the K-State parking garage and is charged at the same rate as other stalls. Learn more about parking at K-State.
Other on campus parking
McCain Auditorium is not responsible for metered stalls on Goldstein Circle and cannot guarantee their availability. Most stalls on campus not in the parking garage are free after 5 p.m. but fill quickly. Patrons may park in these stalls for performances unless otherwise posted. Remember, latecomers will be seated at the first appropriate pause or at intermission, as determined solely by the artist and house staff.
ATA bus pick up from Parking Lot A2 before McCain Performance Series shows at McCain Auditorium and Chapman Theatre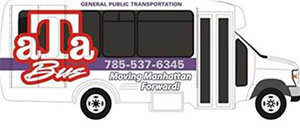 Beginning 90 minutes before show time, a chartered ATA bus will begin pick up from Parking Lot A2 with delivery to the McCain Auditorium north entrance off Goldstein Circle.
Parking Lot A2 is located on the southwest corner of Vattier Street and Manhattan Avenue. The bus stop at Parking Lot A2 will be clearly marked. The bus will run approximately every 7 to 10 minutes. Last pick up from the parking lot will be at 10 minutes before show time. The bus will return from Goldstein Circle to Parking Lot A2 making several runs after the performance. This service will not be provided during evenings where shows are at the Wareham Opera House.