Free student matinees
More than 6,000 precollege students from the local and surrounding schools are bused to McCain Auditorium each year to see a live arts educational performance. Teachers receive in-depth study guides to connect curriculum to these free student matinees.
For information on how your class can experience a free student matinee performance, please call 785-532-6425.
42FT — A Menagerie of Mechanical Marvels — Cirque Mechanics
Nov. 20, 2019, at 9:30 a.m.
Grade 3 and up
"42ft" is inspired by the mid-1930s circus big top, including the "period" costumes and the music. It takes us backstage and allows the audience to witness "a day in the life of a 1930s circus performer." A brief introduction to historical circus will help students understand circus life and customs as they appear in the production. They will also learn how circus turns of phrase have become familiar idioms. The show introduces artists that inspired the creators of "42ft" from across media platforms including LIFE Magazine's photographs of the 1930s, Charlie Chaplin's films and Sarah Gruen's novel "Water for Elephants." The time period for this show coincides with the Great Depression, framing circus as an important form of popular entertainment and contextualizing it in a wider conversation about arts funding through the Works Progress Administration.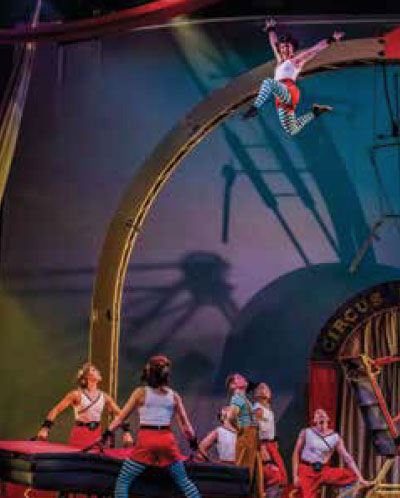 For the acrobats, performing extraordinary feats requires an understanding of basic principles of physics, including inertia, momentum and centrifugal force. The contraptions in the show are based on simple machines that rely on the same principles to help the acrobats fight against gravity.
Walk On: The Story of Rosa Parks
Feb. 5, 2020, at 9:30 a.m. and 12:30 p.m.
Grade 3 and up
The tremors of an earthquake were rumbling across America. A new kind of music was making its first appearance on the radio and parents were outraged. While the rhythms of rock and roll were shaking the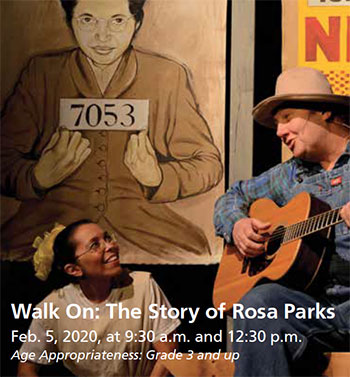 social fabric of the country, deep down an even more important transformation was about to take place. In Montgomery, Alabama, a determined activist named Rosa Parks refused to give up her seat on a city bus. The resulting uproar launched the civil rights movement and changed our country forever. Exciting and inspirational, "Walk On: The Story of Rosa Parks" shows how the determination of one individual made all the difference in the struggle for freedom and equality in the United States.
Dinosaur World Live!
Feb. 27, 2020, at 9:30 a.m.
Pre-K and up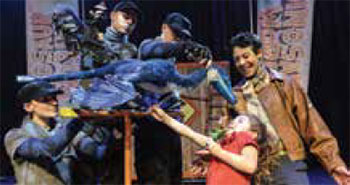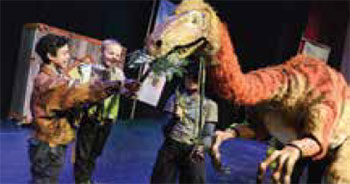 Dare to experience the dangers and delights of Dinosaur World in this interactive new show. Grab your compass and join our intrepid explorer across unchartered territories to discover a prehistoric world of astonishing (and remarkably lifelike) dinosaurs. Meet a host of impressive creatures, including every child's favorite flesh-eating giant, the Tyrannosaurus Rex, a Triceratops, Giraffatitan, Microraptor and Segnosaurus!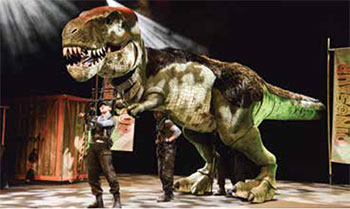 1984 by George Orwell
March 18, 2020, 9:30 a.m.
Grade 8 and up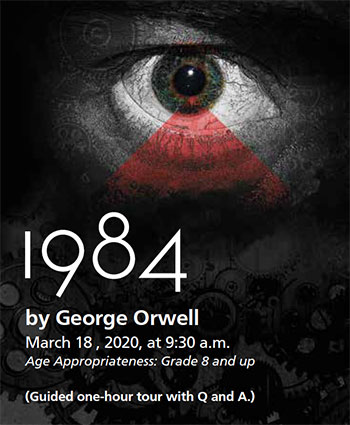 Written in 1944 near the end of World War II, "1984" depicts a society controlled by a perfectly totalitarian government bent on repressing all subversive tendencies. "Big Brother" is always watching and technology is wielded as a weapon to inundate citizens with propaganda and to monitor thoughts and actions. Imagined before the existence of computers, this dystopian future explores the power of technology as a mental manipulator and source of curated information. The resurgence of "1984" marks a widespread desire to understand the present moment by looking back… as a means to look forward. How far are we from realizing Orwell's nightmare? Are we already there? Can there be more than one truth, more than one set of facts?